Are you searching for a reliable source of liquid fertilizer? Look no further than Fabian Seed Farms, where we provide high-quality liquid fertilizer solutions to cater to the needs of farmers and gardeners alike. 
Liquid fertilizer offers numerous advantages over dry chemical fertilizers, making it a preferred choice for higher management farmers. Experience faster results and exceptional yields with our trusted liquid fertilizer products. As we often state, "Making the decision to move your farm to liquid fertility advances you to a whole new level of management that you cannot even begin to have the conversation with using dry, old technology fertilizer".
Maximizing Plant Growth
Liquid feeding has long been recognized as an effective method of providing essential nutrients to plants. Our liquid fertilizer formulations are ready to use, delivered to your location by the truck load, or for smaller volumes, can be made available in 1000 litre IBC totes and some are down as small as 10 litre jugs.
We can guide you on the ideal application rates tailored to your specific requirements. Discover the advantages of liquid fertilizer and unlock the potential for remarkable yields.
Maximize Nutrient Delivery
One of the key advantages of liquid fertilizer is its remarkable ability to deliver nutrients directly to plant roots. When compared to applying superphosphate to average soil, liquid fertilizer application can result in significantly higher nutrient recovery and improved yields, and with TPA and Carboxylate in the formulation, keep phosphorous from being tied up for up to 90 days, instead of the usual 45 days.
Efficiency and Time Savings
Liquid fertilizer offers time-saving benefits for farmers, most times freeing up the tank that was used for dry fertilizer to use for seed, often doubling seed holding capacity. Most comments we hear from clients is how long they can now seed in between fills, which contributes to enhanced efficiency at a crucial part of the year. 
By utilizing liquid fertilizer, you can ensure that your plants receive the vital nutrition they need promptly. Regular spraying with liquid fertilizer as a foliar can enhance plant growth and boost production, revolutionizing your farming practices.
Versatile and Controlled
Liquid fertilizer provides the flexibility to cater to various plant requirements, offering fast-acting and controlled nutrition. You can successfully nourish your plants with liquid fertilizer and achieve remarkable growth and productivity. 
Whether you have questions or seek further information about liquid fertilizer, our team is here to assist you. Contact us anytime to explore the benefits of this system and gain valuable insights into liquid fertilizer application.
Serving the Alberta Community: Your Trusted Partner
At Fabian Seed Farms, we take pride in serving our local community in Alberta. We are dedicated to providing exceptional products and services to our fellow farmers. Connect with us today and experience the difference that liquid fertilizer can make in optimizing your plant nutrition. Together, let's cultivate thriving crops and foster agricultural success.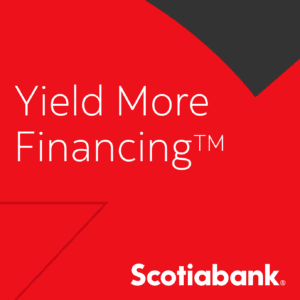 Fabian Seed Farms is happy to offer financing options through Scotiabank's Yield More Financing™ program. The Yield More Financing™ program provides a fast, flexible and convenient line of credit for use at Fabian Seed Farms, so you can stock up for the growing season without worrying about the upfront cost. We're more than happy to help you sign up and get you set up for your growing season. Contact us today to get started.