Triticale, a remarkable cross between wheat and rye, offers an exceptional crop solution that thrives even in challenging conditions. If you're intrigued by this versatile species, look no further than Fabian Seed Farms for all your triticale needs.
Unleash the Potential: Plant Characteristics and Drought Resistance 
Triticale boasts outstanding plant characteristics that excel in foliage and feed production, even under stressful conditions. Thanks to its rye parentage, this remarkable species demonstrates remarkable drought resistance, making it a reliable choice for dryland production. 
With triticale, you gain an alternative cereal crop that delivers high yields and resilience on marginal lands.
Optimizing Triticale for Feed
Triticale makes an excellent feed, with maximum feed usage compared to other cereal options. Choosing a triticale that is beardless is an important consideration to prevent lump-jaw. Optimal feed quality is obtained for dairy when the triticale is in the swollen boot stage. For range cattle, cut your triticale at the milk to soft dough stage. 
Need extra help for maximizing your triticale green feed success? Contact us at any time, and we would be happy to discuss strategies for your operation that maximize your feed potential.
Straight Combine for Success: Minimize Sprouting Damage 
To minimize sprouting damage, we recommend straight combining triticale. Compared to hard red wheat, triticale is more susceptible to sprouting in the swath. However, rest assured that straight combing allows for efficient harvesting without compromising yield, bushel weight, or quality. 
If necessary, triticale can be swathed without loss of these crucial attributes when the kernels contain 35 percent moisture or less.
Harvest with Confidence: Optimal Moisture Content and Quality 
Harvesting triticale is a breeze when you adhere to the recommended moisture content guidelines. Triticale with a moisture content of 14 percent can be safely combined without the need for drying, offering convenience and time-saving benefits. 
Kernels containing 20 percent moisture can be efficiently combined and dried without sacrificing quality. With Fabian Seed Farms' triticale, experience hassle-free harvesting while preserving exceptional grain quality.
Serving Alberta with Expertise: Your Triticale Source
At Fabian Seed Farms, we proudly serve customers across Alberta, providing comprehensive support and guidance for triticale species. Should you have any questions or seek pricing information, our dedicated team is here to assist you. Contact us at any time to access valuable insights and unleash the full potential of triticale.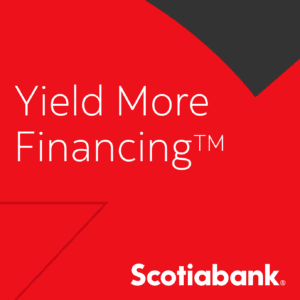 Fabian Seed Farms is happy to offer financing options through Scotiabank's Yield More Financing™ program. The Yield More Financing™ program provides a fast, flexible and convenient line of credit for use at Fabian Seed Farms, so you can stock up for the growing season without worrying about the upfront cost. We're more than happy to help you sign up and get you set up for your growing season. Contact us today to get started.