Are you in search of premium barley seeds to elevate your farming yields? Look no further than Fabian Seed Farms, your trusted source for top-quality barley products. Whether you're a seasoned farmer or a novice grower, our extensive selection and expert knowledge will help you achieve success in your barley cultivation.
Timing Matters: Plant Barley with Confidence
Barley is a versatile crop that can be sowed throughout the growing season. At Fabian Seed Farms, we provide the best barley seeds that ensure optimal growth and yield. You can confidently sow barley from early March to the end of August. 
It thrives in various light conditions, from full sun to partial shade. Spring is an ideal time to plant, as barley can withstand light frost, guaranteeing a resilient start to your crop.
Seamless Integration: Simplify Your Growing Process
When it comes to growing barley, we make it effortless. Our barley varieties are designed to be easily incorporated into your soil. Use a garden fork to work the seeds into the ground, and you'll witness seamless integration. 
After harvesting, you can cut or scythe the barley and leave it in place as mulch, promoting soil health. With a two-week interval before planting the next crop, your field will be primed for continued success.
Explore CDC Austenson: Unleash Barley's Full Potential
We offer an extensive range of barley varieties at Fabian Seed Farms, including the esteemed CDC Austenson. This high-yielding, 2-row feed barley is renowned for its short, robust straw and plump kernels. 
CDC Austenson ensures a resilient and productive crop by boasting resistance to stem rust. Whether you require barley for grain production, silage, or swath grazing, CDC Austenson delivers unparalleled performance.
Quality and Adaptability: Barley Suited to Your Needs
When it comes to barley, Fabian Seed Farms prioritizes superior quality and adaptability. CDC Austenson showcases exceptional attributes, such as high test weight and a high percentage of plump kernels. 
These characteristics make it an ideal choice for irrigation and dry land farming. While CDC Austenson exhibits above-average lodging resistance, optimal nutrition, proper placement, and strategic timing can further enhance this attribute.
Expert Guidance: Your Partner in Barley Success
Confused about barley cultivation? Look no further than the experts at Fabian Seed Farms. We are dedicated to providing comprehensive guidance and addressing all your barley-related queries. 
Explore our extensive product range at your convenience, knowing that farmers throughout Alberta have trusted our barley seeds. For all your farming needs, rely on Fabian Seed Farms and witness the transformation of your barley harvest.
Contact Us Today: Elevate Your Barley Crop
Ready to take your barley crop to new heights? Reach out to Fabian Seed Farms today and discover why our barley seeds are the perfect fit for your farming endeavors. We pride ourselves on delivering unparalleled quality, reliable service, and expertise that ensures your success. 
Embrace the potential of barley cultivation and experience the difference with Fabian Seed Farms. Contact us now to learn more about our premium barley seeds and unlock the secrets to maximizing your barley harvest.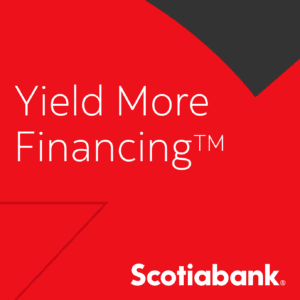 Fabian Seed Farms is happy to offer financing options through Scotiabank's Yield More Financing™ program. The Yield More Financing™ program provides a fast, flexible and convenient line of credit for use at Fabian Seed Farms, so you can stock up for the growing season without worrying about the upfront cost. We're more than happy to help you sign up and get you set up for your growing season. Contact us today to get started.