Are you searching for a game-changing solution to enhance your plant's growth? Look no further than foliar fertilizer, a powerful tool that can revolutionize your farming practices. 
At Fabian Seed Farms, we offer a comprehensive range of top-quality foliar fertilizers suitable for conventional farmers, professional organic farmers, horticulturists, landscapers, tree farmers, and more. 
Experience the remarkable benefits of our foliar fertilizers and take your agricultural endeavors to new heights.
The Safe and Versatile Choice: Transform Your Plant Nutrition
When it comes to plant nutrition, our foliar fertilizers provide a safe and effective alternative to chemical fertilizers. Suitable for use in home gardens, commercial landscapes, and open field environments, our foliar fertilizers offer versatility and ease of application.
Unleash the Potential: Boost Plant Health and Sustainability
Fabian Seed Farms' foliar fertilizers are formulated with high-grade plant nutrients, ensuring sustainable and non-toxic use. By incorporating our foliar fertilizers into your fertility program, you can improve and sustain the health of your plants. 
Moreover, our foliar fertilizers play a crucial role in limiting or preventing the absorption of heavy metals and other impurities, ensuring the purity and integrity of your crops. With rapid absorption through the leaf surface, our foliar fertilizers deliver nutrients quickly to the plant, promoting robust growth and maximizing yields.
Revitalize Your Plants: Rapid Correction of Nutrient Deficiencies
One of the standout benefits of foliar fertilizer is its ability to swiftly correct nutrient deficiencies, alleviating plant stress and bolstering overall plant health. 
Our foliar fertilizers contain complex constituents that facilitate rapid movement through the plant, triggering a natural defense mechanism that resists disease and insect infestations. Experience the transformative power of our foliar fertilizers as they revitalize your plants and propel them towards peak performance.
Flexible Application Methods: Tailored to Your Needs
Our foliar fertilizers offer unmatched versatility in application. Whether you prefer to use them alone or in combination with herbicides, our products seamlessly integrate into your existing farming practices. 
Apply them with ease using conventional high-volume ground sprayers, hand sprayers, backpack sprayers, drip irrigation systems, or direct injection systems. We provide you with the flexibility you need to achieve optimal results.
Discover the Possibilities: Contact Us Today
Do you have questions about foliar fertilizer and its suitability for your specific needs? The experts at Fabian Seed Farms are here to assist you. We serve customers throughout Alberta and are committed to providing comprehensive guidance and support.
Take advantage of the incredible benefits of foliar fertilizer. Contact Fabian Seed Farms to learn more about how our premium foliar fertilizers can revolutionize your farming practices. Our dedicated team is ready to address your inquiries and guide you towards making informed decisions.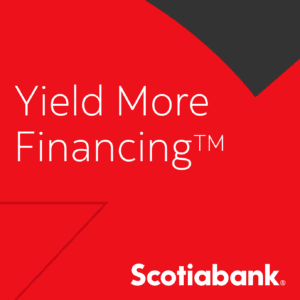 Fabian Seed Farms is happy to offer financing options through Scotiabank's Yield More Financing™ program. The Yield More Financing™ program provides a fast, flexible and convenient line of credit for use at Fabian Seed Farms, so you can stock up for the growing season without worrying about the upfront cost. We're more than happy to help you sign up and get you set up for your growing season. Contact us today to get started.