Are you in search of high-quality organic fertilizer in Alberta? Look no further than Fabian Seed Farms, where we provide top-notch products that are easily absorbed by your plants. Our organic fertilizers are derived from natural sources through the process of decomposition, ensuring consistent nourishment for your garden plants. 
Experience the strength and self-sustainability of your plants as they thrive on a healthy diet tailored to their needs.
Unleash the Power of Organic Fertilizer: Nourish and Sustain
Organic fertilizers offer nutrient-rich sources of organic matter that break down slowly, providing sustained nourishment to make your plants robust and vigorous. Our team highly recommends organic fertilizers for your landscape, as they create a nurturing environment that goes beyond mere plant nourishment. 
By enriching the soil with organic supplements, organic fertilizers foster the growth of naturally occurring beneficial organisms, equipping your plants with the tools to access nutrients in the soil. Strengthened and fortified, your plants gain the ability to protect themselves from harmful pathogens and pests.
The Fabian Seed Farms Difference: Dependable and Sustainable
When it comes to organic fertilizers, we have precisely what you need. The products we carry are formulated to meet the highest quality standards, ensuring reliability and effectiveness.
Embracing natural alternatives is not only beneficial for your garden, but also for our environment. Fertilization plays a pivotal role in gardening, and transitioning to natural and organic options is a worthwhile endeavour.
Cultivate a Flourishing Garden: Embrace Organic Gardening
Embrace the art of organic gardening and unlock the true potential of your garden. By nurturing enriching soil, plants, and beneficial insects, you create a harmonious and sustainable ecosystem. 
Say goodbye to synthetic fertilizers and pesticides, and let organic fertilizer become your ally in cultivating healthy garden soil and fostering the thriving organisms within it, and the nutrient dense safe, healthy food produced for you and your family.
Explore the World of Organic Fertilizer: Connect with Us Today!
Do you want to learn more about organic fertilizer? Are you ready to experience the benefits of these remarkable products? Reach out to us with your questions or explore our website to discover our wide range of organic fertilizers. Fabian Seed Farms is committed to providing exceptional products and services to meet your organic gardening needs. 
Take the first step towards a flourishing garden by embracing the power of organic fertilizer. 
Contact us now or shop directly on our website to embark on your organic gardening journey.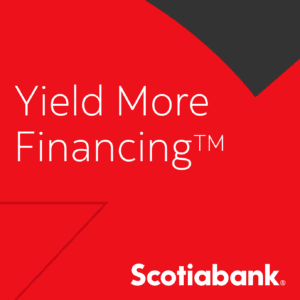 Fabian Seed Farms is happy to offer financing options through Scotiabank's Yield More Financing™ program. The Yield More Financing™ program provides a fast, flexible and convenient line of credit for use at Fabian Seed Farms, so you can stock up for the growing season without worrying about the upfront cost. We're more than happy to help you sign up and get you set up for your growing season. Contact us today to get started.